All
Couchmaster®
Ergonomics
Guide
All
Couchmaster®
Ergonomics
Guide
Meet Roman! Our Chief Technology Officer (CTO) and co-founder of nerdytec. With a passion for product development, Roman talks to us about how he approaches his role in an ever-changing industry and what he's up to at nerdytec HQ. What inspired you to pursue a career in gaming? Gaming has been an integral part of my life since my early days with the Nintendo NES. Over time, as 1996 dawned, I became immersed in the fascinating world of PC gaming. Although I didn't directly pursue a career in gaming, it was a twist of fate to ... [...]
Read more... from Get to know the team: Roman Jakob, CTO & Co-Founder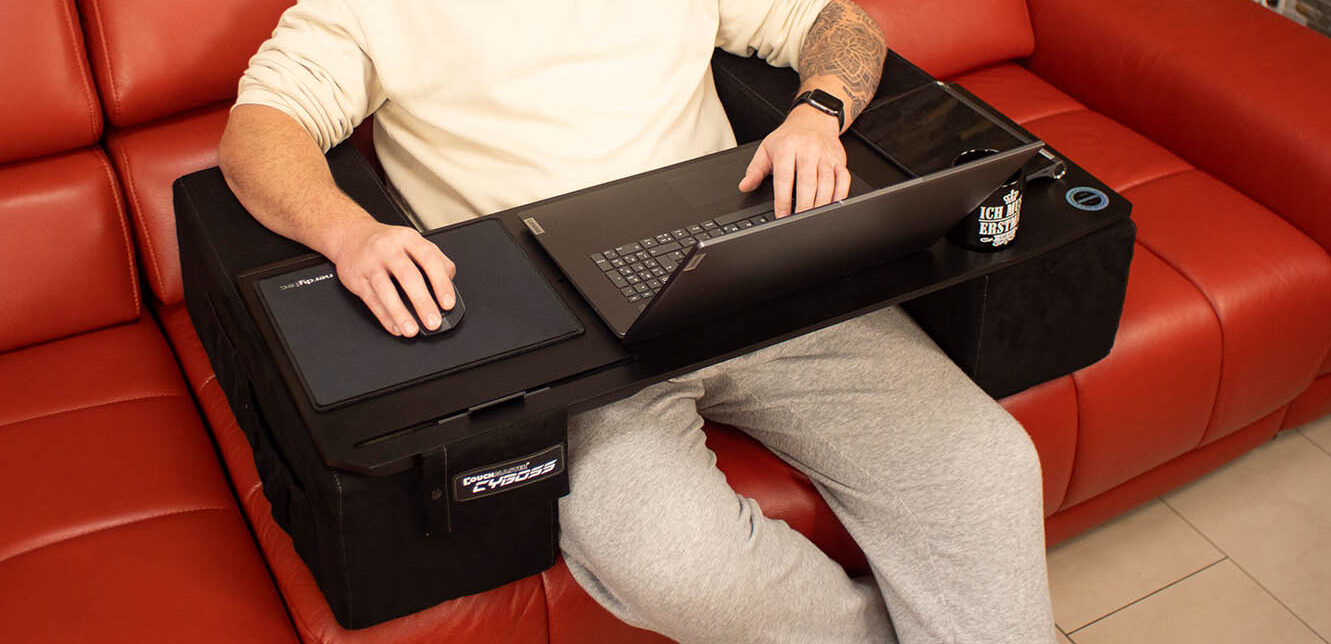 So you've decided on a Couchmaster® to improve your work-from-home setup or are ready to upgrade your gaming equipment - congratulations! We think this is an excellent idea. Our ergonomic design and environmentally-friendly materials make us the perfect choice for those looking to get nerdy all day, every day, but you might still be wondering how to choose the right Couchmaster®. Firstly, be assured all our patented designs have undergone rigorous testing to ensure optimum ergonomics. If you're keen to enjoy a long session, the right setup will be vital for ensuring the best possible experience.
Read more... from Find your perfect match for limitless gaming and productive home office: The Couchmaster® - your personal comfort on the sofa!
Erinnere dich daran, wie du dich schon einmal so sehr in ein neues Spiel vertieft hast, dass du ohne Unterbrechung ganze 8 Stunden gespielt hast... nur um dann festzustellen, dass du dich kaum noch erheben konntest, weil dein gesamter Rücken schmerzte.☝️ Egal, ob du die Welt rettest oder dich in einer virtuellen Arena bis zum Tod bekämpfen möchtest, es gibt einen Feind, dem du niemals gegenüberstehen möchtest: Körperliche Beschwerden. Eine schlechte Körperhaltung und unzureichende Ergonomie können dazu führen, dass du dich erschlagen fühlst, während Schmerzen und Beschwerden dein gesamtes Spielerlebnis beeinträchtigen (und möglicherweise sogar deine Leistungsfähigkeit). Angesichts der Tatsache, dass mehr als zwei Drittel der Amerikaner Videospiele spielen, handelt es sich um ein ernsthaftes gesundheitliches Problem für Gamer, das eine praktische Lösung erfordert. Es ist an der Zeit, diese Herausforderung anzugehen und dein Spielerlebnis auf eine neue Ebene zu bringen.
Read more... from Maximize your gaming experience: the benefits of an ergonomic setup